Is It Ok For Dogs To Wear Bandanas?
Accessorizing dogs can make them look cool and cute at the same time. It depends on what you put on them.
Some love dressing their dogs in fancy clothes, while others prefer wearing a bandana for a stylish look.
Dog accessories may not get the same attention as dog food and collars. People don't pay a lot of attention or concern when getting these accessories for their dogs.
However, it's vital to consider the safety and comfort of these accessories, like bandanas on your furry friend. Is it okay for dogs to wear bandanas?  
Discover more about this stylish accessory for your dog. You would be surprised when you hear some of its uses for dogs.    
Is It Okay For Dogs To Wear Bandanas?
Dog bandanas are nothing new in the pet world and have been in style for a long time. However, trends change, and different bandana types and designs are now available to suit the purpose.
Bandanas are excellent for adding style to blend with the current fashion trends in the dog world. It's also great for hiking and various outdoor activities.
Bandanas add great comfort in all weather conditions apart from making your furry friend look cute.
Bandanas are the perfect addition to your dog's wardrobe.
Reasons Why A Dog Needs To Wear A Bandana

 A bandana is not only worn for style. Bandanas indeed look cute on dogs, especially puppies. However, style and fashion is not the only reason to put a bandana on your dog. 
Here are a few other reasons a dog needs to wear a bandana.
You may have never thought of a bandana for safety, especially late at night. A bandana can act as a caution for drivers and passersby at night.
Brightly-colored bandanas are noticeable in the dark, even at a far distance. Drivers and passersby will get distracted by the colors in the bandana and will notice your dog is there. It will help your dog from facing an accident on the road. 
You can also include your contact details on the bandana. It will serve as a form of identification and help locate you in case your dog gets lost or falls into trouble.
Another important use of bandanas is to combat bugs, fleas, insects, and other parasites that trouble dogs. It may not be obvious, but bandanas can help keep annoying parasites away.
You must coat the bandana with a non-toxic bug repellent to keep insects and fleas away. Ensure that you get a low DEET repellent, which is unsuitable for dogs. Also, avoid putting anything that is allergic to your dog.
To Look Trendy And Stylish
One of the most prominent tasks of a bandana is to help your dog look stylish and trendy. A bandana looks attractive on dogs and cute on puppies.
Another use is that they could make your dog look less scary for those who tend to feel scared when they see dogs. 
Bandanas come in various designs, so ensure you get one that suits your dog's personality. An attractive bandana will be a great addition to your dog's outfit.
Bandanas are also excellent for providing warmth to dogs. These accessories cover a dog's neck and chest, the main areas that need to be covered to feel warm.
Put a bandana around your dog's neck, especially in cold weather like winter. It's also ideal when taking your dog out for walks at night. The bandana will help keep your dog warm when out in the cold.
Dogs like the extra layer of warmth that bandanas provide.
Dogs love to go on adventures with their owners. It's essential to their lives as they need exercise and fresh air.
Hiking, swimming, running, and playing are many ways to enjoy your dog. Putting on a bandana during these activities helps protect your dog from varying and harsh weather conditions.
You don't have to worry about whether it's hot or cold outside because your dog is ready to face any change in the weather with its bandana.
Bandanas also help prevent sunburn and protect your dog from blue-green algae when going swimming.
In addition to it, they can also protect your dog from insect and bug bites while on an adventure.
Bandanas are useful as drool bibs, especially if you have a drooling breed. You can opt for a few bandanas that you can keep switching once they get wet.
If you're using a bandana as a drool bib, ensure that it's made of high-quality cotton yarn, which is long-lasting. 
Bandanas used for this purpose should also be soft, durable, easy to clean, and provide excellent value. 
Adjustable bandana bibs that are gentle on your dog are a great addition, as you can use them on multiple dogs as they are adjustable.
Bandanas make dogs look 'cool' and help them feel cool. They look fabulous on dogs and can keep dogs comfortable during hot weather.
Dog bandanas suitable for different weather conditions are made from a light mesh material that you can soak in water and wring out. These bandanas offer an excellent cooling effect for extended periods.
Sunscreen is vital for your dog, especially when going outdoors in the hot sun. 94% of vets recommend sunscreen on your dog because of the risk of developing skin cancer.
Most dogs lick the sunscreen after application, so ensure that you get non-toxic. Besides, bandanas can also help prevent your dog from directly licking the sunscreen.
The bandana prevents your dog from licking its skin where the sunscreen is. Therefore, your dog will not be ingesting any of the chemicals that are in the sunscreen.
How To Put A Bandana On A Dog
The best way to put the bandana on your dog is to fit it on the back or side. Place the bandana gently under its chin and secure it loosely at the top of its neck. Make sure that the bandana fits your dog. It shouldn't be too tight or too loose.
The best way to find the perfect fit is to check if you can insert two fingers between the bandana and your dog's neck. The bandana is too tight on your dog if you can't do this. If you can insert more than two fingers, the bandana is too loose on your dog.
Checking the perfect fit for bandanas is similar to the procedure followed when choosing dog training collars. Your best bet is to shop by collar size.
Types Of Dog Bandanas
Here are a few common types of bandanas for dogs.
Tie-on bandana

Slip-on bandana

Plain bandana

Patterned bandana

Customized bandana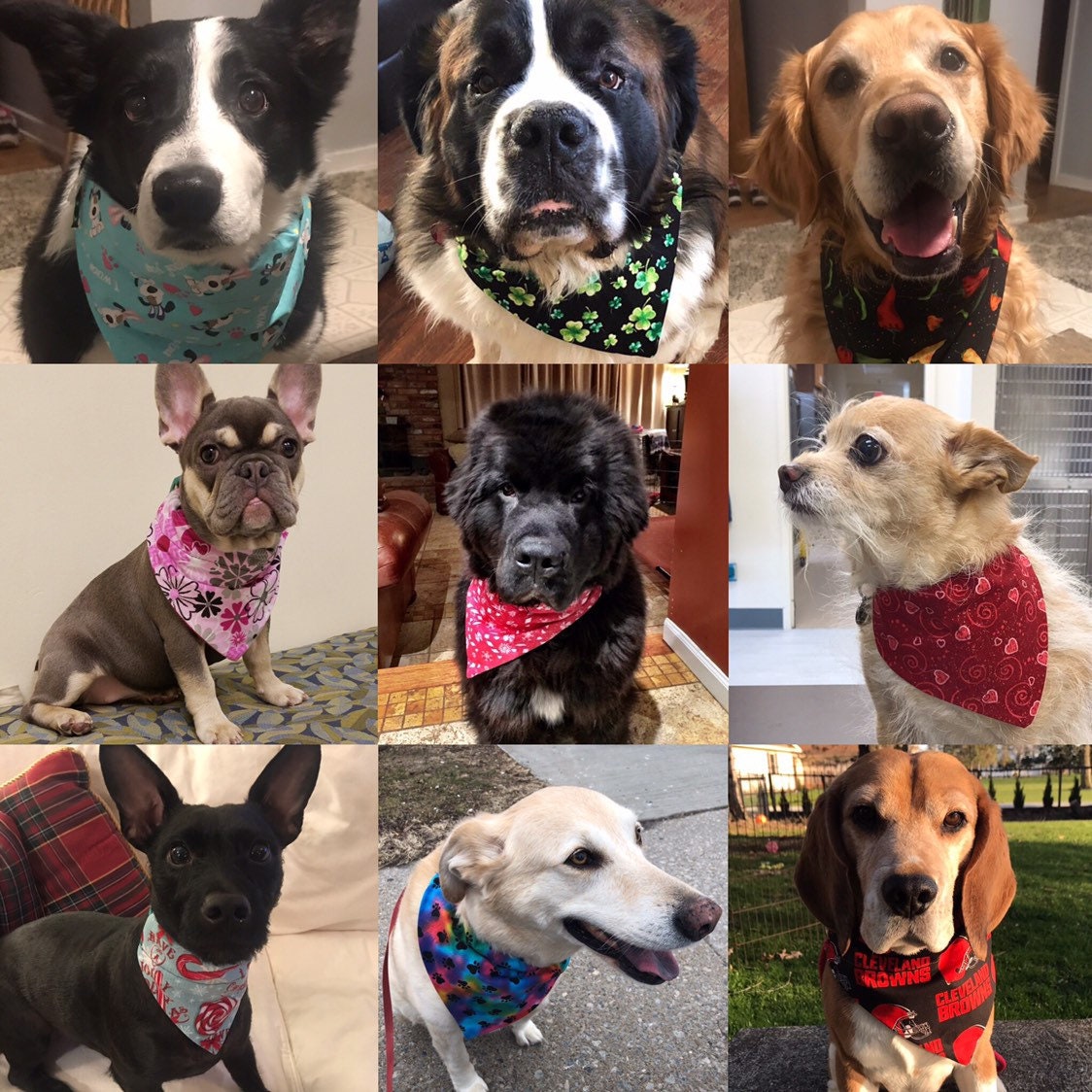 Origin Of Bandanas
Bandanas have been in existence for a very long time. They are said to have originated from India in the South Asian region. 'Bandha' or 'Bandhu' means 'to tie' and 'tie-dyeing,' respectively.
Many workers, including farmers, miners, railway staff, and other laborers, wore this garment when working in the hot sun. It helped wipe off sweat and stains and prevent dust from entering the nostrils.
The exact date for the inception of dog bandanas is not mentioned anywhere. However, in 2017, around 764 dogs set a Guinness world record for the highest number of bandanas worn by dogs.
Conclusion
It is okay for dogs to wear bandanas, making them look cool and stylish. Bandanas are handy because they offer protection to dogs in many ways.
Bandanas come in different styles, patterns, and colors. You can mix and match them with any other clothes you put on your dog.
Frequently Asked Questions
Do Dogs Like To Wear Bandanas?
Dogs like to wear bandanas because they give warmth and help them stay cool.
Do Bandanas Make Dogs Hot?
Bandanas made of soft, gentle materials such as cotton do not make dogs hot.
Do Wet Bandanas Keep Dogs Cool?
Wetting or freezing bandanas help keep dogs cool.